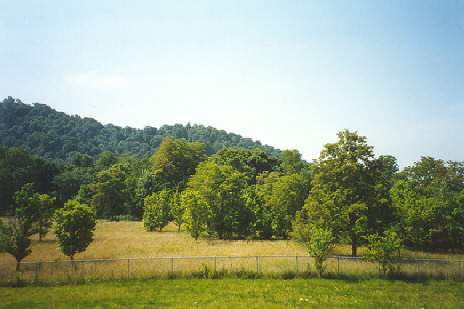 Abraham Field was born in 1744, in Culpeper County, Virginia.1 He suffered a serious shoulder wound during the Battle of Point Pleasant, October 10, 1774.2 As a result of his wound he was unable to work and support himself and his family. However, he was often hired as a hunter3 and road surveyor.4, The father of Abraham was Keene Field (?-Bef. May 16, 1754).5 Abraham was the grandson of Capt. Abraham Field. (1695-1774) of Culpeper County, Virginia. Abraham was named in Capt. Abraham's will of 18 September 1775.6 Abraham's father, Keene, was dead at the time of Capt. Abraham's death, therefore, Abraham inherited his father's share of Capt. Abraham's property.7Abraham married Elizabeth (last name unknown) about 1771, in Culpeper Virginia. 8 He immigrated to Kentucky in 1884. 9 Four of their sons are of special interest to us. Keen, the first member of our Field line to move with his family to Indiana,10 Joseph and Reuben, members of The Lewis and Clark Expedition11 and Ezekiel, a salt maker in Kentucky.12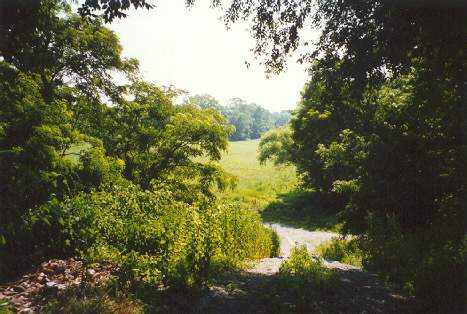 "In 1790 he [Abraham Field,1744-1822] purchased a 200-acre farm on Pond Creek in Southwestern Jefferson County, not the best of farmland. It was located in what are called the Knobs--a series of low, knobbly hills. It was at this farm, no doubt, that Joseph and Reuben Field were recruited by William Clark for the Expedition. [The Lewis and Clark Expedition] Though this site cannot be pinpointed precisely, I have reason to believe that it was near the point where the Gene Snyder Freeway today crosses Pond Creek." The land in these photos, we believe, was land owned by Abraham Field. It was located using the the information found in the We Proceeded On article by George H. Yeater, "Nine Young Men From Kentucky," "Taken from the Jefferson County Deed Book 2:20, August 27, 1790. "A John Speed, living on Pond Creek, sought permission to erect a mill on the creek in 1805 and stated that the site was 1½ miles from Abraham Field's farm: Jefferson County Minute Book 7:13, May 8, 1805. The 1858 G.T. Bergman (county surveyor) map of the county shows only one mill on Pond Creek, which was no doubt the site of Speed's mill. The Field farm can thus be located."13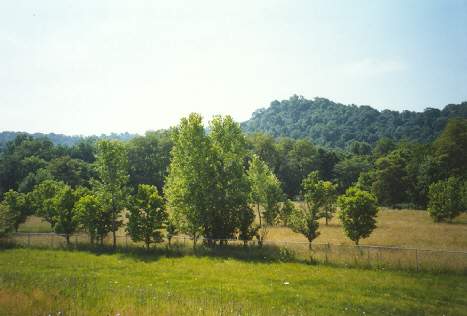 Franklin, Anne York, Compiler, Clues for Revolutionary War Soldiers With Connections to Louisville and Jefferson County Kentucky, (Ancestors Incorporated), (date).
Briggs, R. A., Pioneer Settlers at the Mouth of Salt River, (date only--Briggs does not state a source, but date is likely)
Appleman, Roy E., "Joseph and Reuben Field, Kentucky Frontiersmen of the Lewis and Clark Expedition and Their Father, Abraham", In Genealogies of Kentucky Families, Genealogical Pub. Co., Inc. Baltimore, 1981, pg. 482.
Appleman. pg. 490.
Cook, Michael, Jefferson County, Kentucky Records, Vol. 2, (Cook Publications: Evansville, Indiana, 1978), pg. 298, 266, Various records in other volumes refer to more roads surveyed. At least 6 or 7 times he is ordered to survey and mark the best route.
Estate Record of Keene Field, Will Book A, Pg. 105, Culpeper Court House, Culpeper County, Virginia, Witnessed by Benjamin Roberts, William Field and others. Sworn before Capt. Abraham Field, Magistrate of the county.
McAllister, Edward N. and Annabelle C. McAllister, Estes Genealogy: Estes Families of old Clay County, Missouri. Their Ancestors and Descendants, (1972).
Will of Capt. Abraham Field, 2 July 1774, Will Book B, page 154, Culpeper County Court House, Culpeper, Virginia.
Appleman. pg. 488,489.
Appleman. pg.
Franklin. pg. 60.
Appleman. pg. 489.
Briggs. (his source on names and dates of Ezekiel Field and descendants is Ezekiel Field's personal book.)
Tartt, Jas. T., History of Gibson County, Indiana, (Jas.Tartt & Co. Edwardsville, Illinois, 1884), pg. 188.
Yater, George H. and Carolyn S. Denton, "Nine Young Men From Kentucky" We Proceeded On, Publication No. 11, May, 1992, Lewis and Clark Trail Heritage Foundation, Inc: pg. 3.
Yater. pg. 2.
Appleman. pg. 498.
Yater. pg. 3.
Yater. pg. 13, footnote 7.

Ancestors of Joseph and Reuben Field