Affidavit of Decease for Benjamin R. Field (1828-1903)
State of Illinois,
Shelby County
John W. Field being duly sworn, deposeth any [sic] saith that Benj R. Field late of the town of Shelbyville in the county of Shelby and State aforesaid, departed this life at Shelbyville in said county, on or about the 10- day of May A. D. 1903 and that he died leaving a last will and testament to the best of my knowledge and belief.
John W. Field
Subscribed and sworn to before me,
16- day of June, 1903.
Albert Allen Clerk.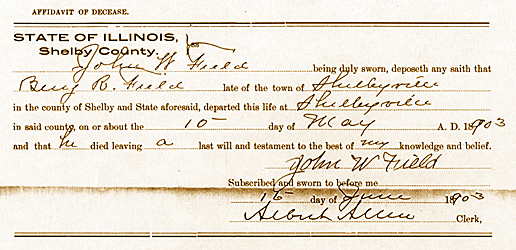 John William Field was a nephew of Benjamine R. Field. John was the son of Keen Withers Field the eldest brother of Benjamin. Benjamin lived most of his life in Gibson County, Indiana. He moved to Shelbyville, Illinois in 1893. His brother Keen and sister Cynthia were also living in Shelbyville at the time of his death. They all lived on the same block on North Third Street.