Shelby Co. Illinois
April 18th. 1865

Dear Father Sisters Brothers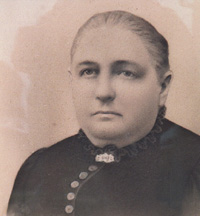 I embrace the present opportunity of writing a few lines to let know that we arrived safe at home that is at Berry's the same night that we left you, the cars makes a very close connection, the train was waiting for us so we kept going all the time, I want some one to give James Ferry, the conductor that we came up with all the praise that he deserves, if they can do the subject justice, for I never seen a more gentlemanly turned man in my life, when he came to me for our fare he asked about the little girl I told that she was a little girl that I was taking home with me to raise, he said is she an orphan, I told him she had neither Father or Mother he said I shant charge you any thing for her but we got on to the Terrehaute & Alton Road they made me pay half fair for her, I started her to school to day, Aby is learning to play his fiddle very fast he learned a heap while I was gone, I hope we will soon get those Photographs Also Mr, Mrs, Appenfiele and family, I just called Cynthia and Aby and set from their swing to tell me what to tell you about them Cynthia says to tell you she likes to stay here better than she does there, she hasnt cried nor said one word that showed that she was dissatisfied I hope that Robert and Grace may not miss her much and be content without her,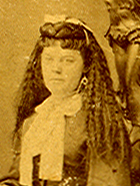 Berrys family are all able to get round, The news that the president is dead like to got some of the republicans friends down. Cynthias cough is nearly well I gave her cherry fectaral, She also had diarea but she is well now tell Keen that Shaw says he is going to boot him for keeping that likeness, Lorenzo says he has nothing special to tell you, it rains every few days and the mud holes are pretty bad yet, our fruit trees are just beginning to bloom, it seemed strange when we came home and not a bloom to be seen we are a great deal later here than you are there I havent heard anything about the draft here since I came home, we have plums in bloom and peaches though the trees are not near all got peaches on them the pear trees are full if they are not killed we will have a good many, and cherries without number currants and gooseberries in plenty I believe I have not any thing more to tell you that would interest you so no more at present write soon and tell me all news my love to you all
Cynthia Turner

The above letter is from Cynthia Ann Field Turner (1828-1899), wife of Lorenzo H. Turner (1826-1905). (top photo) She is writing to her family in Gibson County, Indiana, after returning home to Shelbyville, Shelby County, Illinois with her orphaned 8 year old niece, named Cynthia Luvina Field (1853-). (bottom photo) The young Cynthia was a daughter of elder Cynthia's recently deceased younger brother Joseph Jackson Field (1831-1864). Joseph's wife, Nancy J. Phillips (1833-1862), died in 1862. After Nancy's death Joseph Jackson married Rachel E. Morrison (abt.1840). Joseph and Rachel had a daughter Nancy Jane (1864-1945). After Joseph died the three children of his first wife, Nancy Jane Phillips, no longer lived with their stepmother Rachel Morrison. Rachel married a Henry H. Barton. We are not sure how long Cynthia Luvina lived with her aunt Cynthia Anne Turner in Shelbyville, Illinois, but she eventually returned to Gibson County and lived with Nancy A. Field Richards (1823-1902) a sister of her father, Joshep Jackson Field and a sister of Cynthia Ann Turner and Benjamin R. Field. She had a brother and sister, Robert and Grace, and it is very likely she missed them. Nancy Field Richards had several children but only one lived so she would have have been able to care for a neice.
Cynthia Luvina Field was a first cousin of George Emery Field the great grandfather of Eugene Field of this web site. Cynthia Luvina's brother and sister, Robert Allen Field (1855-1922) and Grace F. Field(1860-), stayed in Gibson County with other relatives.
As of the spring of 2006, this was all we knew about Cynthia Luvina Field except that she had married Wilson Kinney (1847-) in 1873, in Gibson County, Indiana. Then we received an email form Alice K. Kinney Guerena in northern California. Alice had found this web site and emailed us to ask if we knew anything about Cynthia Luvina Field's ancestors and back ground. I was at that point we found out what happend to Cynthina Luvina after moving to Shelbyville with Aunt Cynthia Ann Turner. Cynthia and Wilson Kinney had six children. They eventually moved to Taft, California. Alice's grandfather was their second child, Charles Lewis Kinney (1879-1954). He married Beryl Livermore (1884-1954) from Kingsburg, California. They had two children. The youngest of which was John C. Kinney (1919-). He married Galdys McGill and their first daughter was Alice.
There are a couple of interesting side stories of this line of the Field family. When we met Alice she told us her fatehr, John, had lived in San Francisco. It turned out that John and Lucie Field of this website live just a few houses away from each other on the same street in San Francisco for at least three years and had no idea of each other's exitance. They are thrid cousins two times removed. The second story is that Beryl Livermore, Alice's grandmother, was the granddaughter of Josiah Draper (1821-) one of the early settlers in Kingsburg, California. Draper Street is the main downtown street of Kingsburg, California. Kingsburg was the home for many years of Howard and Miriam Grasz Field. Miriam is the person who began the research on the Field family which is the basis ofthis web site.
Cynthia Ann Field Turner was a daughter of Abraham Field (1793-1870) and Grace Rainey (1797-18630) of Gibson County, Indiana. Cynthia Ann Turner's brother is Benjamin R. Field (1828-1903) who was George E. Field's (1845-1915) father.
There are descendants of Cynthia Ann and Lorenzo Turner (1826-1905) living in the Terre Haute, Indiana, area today. An intesting historical note is that the president Cynthia Ann refers to as having been shot is Abraham Lincoln. It can be inferred from what she says about their "Republican friends" being upset at the President's death that they are Democrats.


View scans of the letter:
These may take 1 to 2 minutes to download