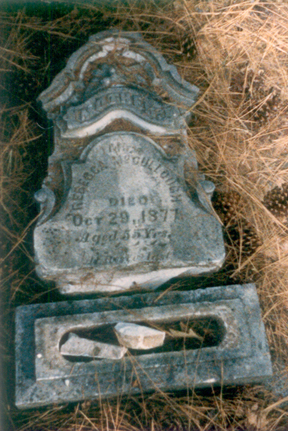 MOTHER/Rebecca McCullogh/Died Oct. 29, 1877/Aged 55 years
This is the grave of Rebecca Julian McCullough a daughter of Sarah Stafford (1800-1843) and George W. Julian (1801-1878). Sarah was a daughter of John Stafford (born about 1768, in North Carolina) and Elizabeth Wainscott (born about 1872, also in North Carolina) Rebecca was born in Indiana 4 January 1823. She married Geroge W. McCulloch 2 April 1845 in Logansport, Indiana. George was born about 1820 in Ohio. He died in Placer County, California, and is buried in the Dutch Flat Cemetery as well but there is no existing tombstone for him.
Rebecca and George came to California in the early 1850's and settled in Dutch Flat. Many of their descendents are buried in the Rocklin Cemetery, Rocklin, Placer County, California. There are also McCulloughs buried in the Farimount Cemetery in Marshall County, Indiana, who may be related to George. George and Sarah are the great great grandparents of Mary McMillan. John and Elizabeth Stafford are the third great grand parents of Eugene Field.
Rebecca's mother, Sarah Stafford Julian, died 11 Feb 1843, in Cass County, Indiana. She was buried in the Julian Cemetery, Logansport. The Julian Cemetery no longer exists. The following was reported about the Julian Cemetery: Julian Cemetery, Logansport, Cass County, Indiana: This cemetery is described as no longer in existence. "The Old-Timers of the area are in agreement that the cemetery was on the West side of Fish Pond Creek Hollow. The late, former county historian, Dr. J.Z. Powell, in 1909 interviewed the older residents of this region authorized that there were originally 30-40 persons buried in this cemetery between 1830's – 1 840's & that most or even all of them were subsequently removed to the Bethel Methodist Cemetery just ½ mile south. According to Powell's report those persons buried here were:" Mrs. George Julian (Sarah) listed as one moved to Bethel Methodist Cemetery. Julian Cemetery, Cass County, Indiana
After Sarah Julian died George Julian went to California about 1850. He was a fermer in Sacramento and Sonoma Counties. There is no record that he remarried. He died 13 September 1878 and is buried in the Sacramento City Cemetery, Sacramento, California along with several other members of his family.
Rebecca Staford Mcullouch is a first cousin once removed of Miriam Grasz Field to whom this web site is dedicated. Information for this cemetery was provided by Mary McMillan. This cemetery was visited by Lucie and Gene Field 29 December 2003 and 7 April 2007. The tombstone has deteriorate in the four years between our visits.