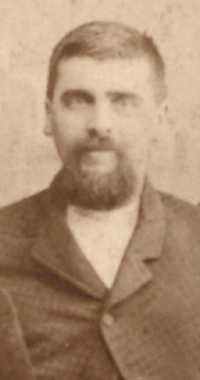 George Emery Field was born 23 December 1849 in White River Twp., Gibson County, Indiana to Benjamin R. Field (1828-1903) and Lydia Ellen Brown (1827-1869).
George's Field ancestors were early immigrants to Virginia and later Kentucky. Two of his great great uncles, Joseph and Reuben Field had been members of the Lewis and Clark Expedition.
His mother died when he was twenty years old. He would then have four stepmothers in his life.
Little is known of his early life in Gibson County, Indiana. He married Sarah Jane "Sally" Knaub (1853-1876) on 15 September 1875 in a double wedding ceremony along with her sister Caroline Adelia Knaub (1852-1929) and John Wesley Steelman (1853-1931) at the Steelman farm in White River Twp. Tragically just a little over one year later Sally died in childbirth and their only child Wilbur Wallace (1876-1878) died two years later.
In 1881 George married a neighbor, Lavica "Vissa" Hinkle (1857-1922) on 19 January 1881, in Gibson County. Lavica was the daughter of Samuel Hinkle (1818-1870) and Nancy P. Cowan (1816-1865).
As a young man in Gibson County, George farmed on the family farm, learned the trade of carpentry from his father and also learned the printing trade.
In September of 1881 George was on a train excursion from Rochester, New York to Kansas City, when Jesse James and his gang robbed the train.
Their son, Arthur Clarence (1882-1866) was born 18 July 1882 and sometime before the end of the year the small family moved to Burdick, Porter County, Indiana, not quite 300 miles north near Lake Michigan. Here, he was a carpenter and possibly a school teacher. Three more sons were born before 1890: Walter Marion in 1884, Elmer Hinkle in 1886 and Harvey Oliver in 1889.
By 1890, they were living at 9 La Porte Ave. in Valparaiso, the county seat. They may have been located in Valparaiso as early as 1884 since all three sons were born in Valparaiso. Here he was a carpenter and a fifth son George Nelson was born in 1891. By 1893, they had moved to 11 La Porte Ave. It was at this time he added florist to his growing list of occupations and a daughter Mary Ellen was born in 1894. In 1897-1898 the family is listed as living in Otis, LaPorte County, just east of Chesterton and a mile from Burdick. (This was possibly the same house. George's son Harvey used to refer to Burdick as home and would point out barns George built in the area to family members.)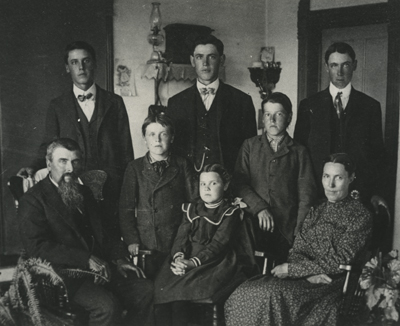 By 1898 the family is back in Valparaiso, living at 69 Oak St. next door to Lavica's brother John Hinkle and his wife Jennie Shoemaker and their family. On April 6, 1898, George and Lavica purchased a lot a few blocks east on Oak St. for $200.00. By 1902, they had built a house at 1001 Oak St. Next door was John Hinkle's home at 1003, a mirror image house.
It was in this tiny home that George and Lavica remained and raised their family. Shortly after moving in, daughter Mary Ellen died of scarlet fever on 23 September 1902. On 10 May 1903, his father, Benjamin R. died in Shelbyville, Illinois, where he had lived for some years. Benjamin left George all his carpentry tools.
Around 1905, George opened a print shop where he did printing and bookbinding, at the the Oak St. property. He operated this shop until near his death in 1915. He passed this trade on to at least two sons. Harvey was apprenticed to the Episcopal Parish Leaflet Company before 1910 and would go on to manage the Daily Vidette in Valparaiso and later purchase and run the Nappanee Advance-News in Nappanee for 26 years. George Nelson owned and operated a print shop in downtown Valparaiso from 1910-1924 and would work for various newspapers as a printer for the rest of his working life.
Life was rocky for George and his family. He moved many times before settling down at 1001 Oak St., but even there times were tough. A title search done on the property reveals multiple mortgages, failures to appear at court dates to pay the mortgages, failure to pay taxes and so forth. George drank quite a lot and Lavica had to take in washing and ironing to make ends meet.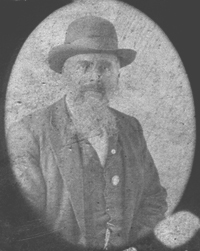 Rocky or not, the family was a close one and they got together often. On 19 January of 1906 George and Lavica celebrated a 25th wedding anniversary in the house. On July 4 1906, son Arthur Clarence hosted a picnic and the party moved to George and Lavica's for fireworks. The house at 1001 Oak St. was always full.
In 1914 George suffered from heart problems and in 1915, he developed nephritis and and ultimately uremia. He died on 17 July 1915 in Valparaiso. He was buried beside his daughter Mary Ellen in the Maplewood Cemetery in Valparaiso two days later. Lavica remained in the house on Oak St. until she tragically fell down the basement stairs at a family dinner on November 18, 1922, and was buried next to George and Mary Ellen. George's grandson Howard remembered his grandmother Lavica taking him by the hand and bringing him to view George in his casket.