John Gohn
1806 Parents of Isabelle Gohn
Lydia Gohn
1812

Isabelle Gohn Penn
Married July 22 1852
James Frymire Ohio


Children-

Rebekky Frymire
Born Nov 22 1852
Died Aug 19 1853

Infant Son died at birth
Dec 15 1853

Chauncey Frymire
Born-Jan 23 1861
Died-July 28 1861

John F. Frymire
Born Nov 22 1856
Died July 6 1932

Elizabeth Rozette Frymire
Oct 28 1858
Sept 21 1907

Mehaly Sevilla Frymire
Apr 25 1862
June 10 1863

Mary Melissa Frymire
Apr 5 1855
Dec 27 1864

Wm Henry Frymire*
Oct 6 1863
Oct 18 1948
*In a letter to Miriam Grasz Field dated 28 July 1968, Leonard Frymire states that he would like to correct his father's death date and says that it was 18 not 23 January, so perhaps the date of October is Leonard's error.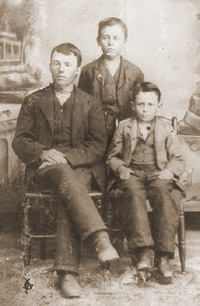 Isabelle Gohn m. Ephraim Reynolds Dec 19 1865

Artimis Reynolds b. July 26, 1873

James L Reynolds b. Feb 1, 1868

Ephraim Reynolds d. Oct 19 1874

Isabelle Gohn m. Nickolas Wolley Dec 2 1875

Nickolas Wolley d. Mar 4 1879

Isabelle Gohn m. Alfred Allison Apr. 1879

Alfred Allison D. Feb 11, 1906


Children of Wm & Olive Frymire

Edward Frymire
Jan 22 1888
Apr 10 1966

Bessie Frymire Gunter
1890
June 1930

Harry E. Frymire
Dec 14 1896
Mar 14 1959

Chloe Frymire Clausner
Jan 26 1900

Leonard W. Frymire
Nov 18 1906

All names and dates copied from the Family Bible of Isabelle Gohn Allison by Leonard William Frymire March 1968, Peru, Indiana. The bible was printed in 1852. Isabelle Gohn died 9 October 1924, and is buried in the Graceland IOOF Cemetery, Claypool, Kosciusko County, Indiana, under the name Isabelle Gohn Allison.

The first photograph is John Franklin Frymire, Warsaw, Indiana, 18 September 1913. The second photograph is left to right: William Henry Frymire, James Reynolds, Artemis Reynolds.