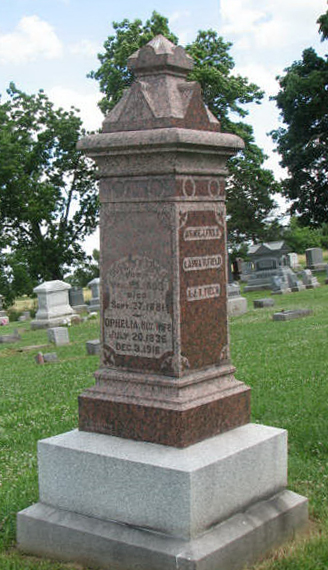 The Field Family Tombstone, Cemetery, Greene County, Illinois
The Joseph Riley Field Family is buried here.

Joseph Riley Field (1803-1916)
Ophelia Peck (1836-1916)
Joseph Riley was the son of Keen and Anna Lewis Field of Gibson County, Indiana
Joseph J. Field (1848-1880)
J. R. Field (1886-1885)
Sons of Joseph Riley Field and of Elizabeth Kell
Annie Jane Field (1825-1918)
Laura B. Field (1859-)
Abraham James Riley Field (1825-1897)
Children of Joseph Riley and Elizabeth Kell
Laura B. was the daughter of Ophelia Peck
Ophelia Peck Field (1836-1916)
Second wife of Joseph Riley Field.
They had one child, Laura B. Field
Laura B. Field Doyle, was the child of Joseph Riley Field and Ophelia Peck (1859-1936)
W. L. Doyle (1852-1930) was the husband of Laura B. Field
Joseph Riley Field was the fifth child of Keen and Anne Lewis Field the pioneers of Gibson County, Indiana. He married Elizabeth Kell probably also of Gibson County. By 1831 Joseph and Elizabeth had moved to Alton, Illinois, and by 1832 they were in Greene County. By 1848 they had five children, Anna Jane, Abraham James Ryley, Margaret and Joseph J. Then in December of 1853 Elizabeth died. In November of 1857 Joseph married Ophelia Peck and they had two children, Laura B. and J. R.
Joseph Riley's youngest brother, Keen Wither Jr., moved to Greene County, then back to Gibson County, back to Greene County and finally out to Oklahoma where he died. The father, Keen Field, died in 1815. At some point Anna, their mother, Anna Lewis Field, moved over to Greene County and was last recorded in the 1850 census some where near Apple Creek in Greene County. That is the last record of her and it is not known where she is buried.
The family seems to have had a reputation for being a rough and ready family and not too well liked by the people of the area as the article linked below indicates. Joseph Riley was a farmer and stockman and had a lot of money and obviously felt he could buy anything, including the freedom of his murderous son. At the age of 77 old Joseph Riley fell out of a wagon, suffered apoplexy and died. He was buried in the White Hall Cemetery in Greene County, Illinois.
In July of 2009 we were contacted by Becky Sherwin the daughter of the present owner of this farm. She stated in one of her emails, "I think my great-great-great grandfather was actually a neighbor to Joseph Riley from about 1856 on. My ancestors didn't acquire the farm where the Field's lived until around the time of the depression."
All of the photographs on this page were taken by Becky Sherwin and she has graciously given us permission to use them on this web site.
The Joseph Riley Field family farm.
Areal view of the Joseph Riley Field family farm today.
The Joseph Riley Field family home.