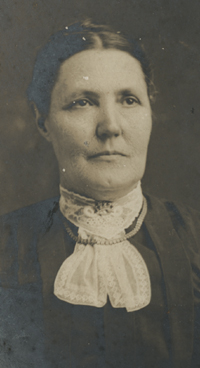 Lavica Hinkle was born in Springfield, Clark County, Ohio to Samuel and Sarah Nancy P. Cowan Hinkle on August 3, 1857. She was the last of their ten children.
Samuel and Nancy were both natives of Pennsylvania. Samuel had previously immigrated to Clark County, Ohio from Lancaster County, Pennsylvania in 1833, where he met and married Nancy Cowan. All their children were born in Clark County. Sometime after 1860 Samuel moved his family near Patoka, Gibson County, Indiana. The Hinkle family moved to Indiana, about the same time as at least three other families from Clark County, Ohio. These were the Steelmans, the Knaubs and the Highwoods. A few members of these families had already intermarried by the time they arrived in Indiana. The Ohio families were known in Gibson County as the "Buckeyes." They all bought land around Patoka. The families built a Methodist chapel known as the Steelman Chapel. Lavica is listed in the congregation in 1871. The Buckeyes were unpopular with the local residents because they had enough money to move in and buy property in cash. Because the community did not want the Buckeye children attending the local school these families built their own school as well.
Lavicia's mother died in 1865 and is buried in the Wolf/Hinkle Cemetery in Gibson County and her father died about 1870; the exact date is unknown. Although she owned property (half of Military Donation 24), until her marriage, almost 10 years later, she moved around between various relatives. By 1870 Lavica was living with her sister Mary and husband John Hyneman (great-great uncle to Jamie Hyneman of Mythbusters fame). In 1871 she became a ward of Edward Highwood the husband of her aunt Rebecca Hinkle Highwood. In 1880 she was living with her cousin John Steelman.
On 19 January 1881 she married George E. Field a neighbor and widower. His first wife, Sally Knaub, another Buckeye, had died in 1876 from complications due to childbirth. Sometime before they were married, George and Lavica went to Princeton and on the way home stopped to visit some neighbors. While they were inside, the horse became untied and ran away. The buggy was mangled beyond repair.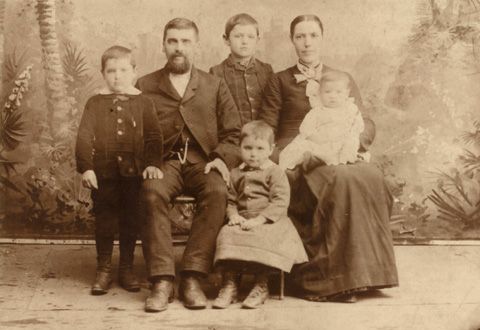 George and Lavica's son, Arthur Clarence was born 18 July 1882 and sometime before the end of the year the small family moved to Burdick, Porter County, Indiana, not quite 300 miles north near Lake Michigan. Her brother John Hinkle and his family had moved to the county two years previously. Three more sons were born by 1890: Walter Marion in 1884, Elmer Hinkle in 1886 and Harvey Oliver in 1889.
By 1890, they were living at 9 La Porte Ave. in Valparaiso, the county seat. They may have been located in Valparaiso as early as 1884 since all three sons were born in Valparaiso. A fifth son George Nelson, was born in 1891. By 1893, they had moved to 11 La Porte Ave. A daughter Mary Ellen, was born in 1894. In 1897-1898 the family was living in Otis, LaPorte County, just east of Chesterton and a mile from Burdick. (This was possibly the same house. Lavica's son Harvey used to refer to Burdick as home and would point out barns George built in the area to family members.)
By 1898 the family was back in Valparaiso, living at 69 Oak St. next door to Lavica's brother John Hinkle and his wife Jennie Shoemaker and their family. On April 6, 1898, George and Lavica purchased a lot a few blocks east on Oak St. for $200. By 1902, they had built a house at 1001 Oak St. Next door at 1003, John Hinkle also built a home, a mirror image of 1001. Since George was a carpenter he build one or both of these houses.
It was in this tiny home that George and Lavica remained and raised their family. Shortly after moving in, daughter Mary Ellen died of scarlet fever on 23 September 1902.
Life was not easy for Lavica. George was a heavy drinker and often without work. Lavica took in washing and ironing to make ends meet. They moved many times before settling down at 1001 Oak St. A title search done on the property reveals multiple mortgages, failures to appear at court dates to pay the mortgages, failure to pay taxes and so forth.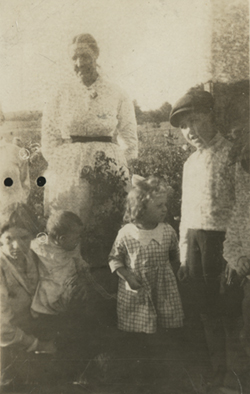 Although her life was not easy, Lavica's family was a close one and they got together often. The 1001 Oak St. home was often the site of many family events. On 19 January of 1906 George and Lavica celebrated a 25th wedding anniversary in the house. On July 4 1906, son Arthur Clarence hosted a picnic and the party moved to George and Lavica's for fireworks.
George died July 17, 1915 of kidney disease and Lavica lived on at the 1001 Oak St. home. On the evening of November 18, 1922, during a family meal, tragedy struck. Lavica left the table never to return. Off the kitchen was a pantry and the floor of the pantry was also the door to the basement. It was dark and Lavica was unaware that the door leading to the basement was open. She fell down the stairs and suffered a fatal skull fracture as a result of the fall. She was buried in the Maplewood Cemetery on November 20 next to her husband George and their daughter Mary Ellen. Their grandson Howard, recalled that so many people attended the funeral held at the home, that at one point everyone was ushered outside because the floors were giving way. The mourners then moved down to the church to finish the funeral.
By Lucie C. Field and Eugene A. Field
25 November 2012
Photo 1: Lavica Hinkle Field abt. 1900, Photo 2: The George and Lavica Field Family abt. 1900, Valparaiso, Indiana. Left to right: Walter Marion, George Emery, Arthur Clarence, Lavica (Hinkle), Harvey Oliver. Seated at bottom: Elmer Hinkle. Photo 3: Lavica (standing) Left to right: Marie Jeanette Eddy Field, Eugene, Lavica, Myrtle, & Howard Field.