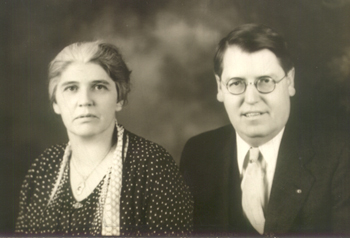 Marie Jeanette Eddy Field is our mystery ancestor even though many of us knew her personally.
Her mother was a woman from New York City, named Mary Driscoll and her father is unknown. She was born at the New York Mothers' Hospital as Mary Michael Driscoll. This was a place unwed or indigent women had thier children. It still exists as Miseracordia Hospital in the Bronx. Mary Michael was born and baptised the same day in the hospital, 23 April 1891.
On 5 May 1891, she was dropped off at the New York Foundling Hospital in Manhattan by her mother, Mary Driscoll. We have a letter from Sister Miriam Augustine of the Closed Records Office of the Foundling Hospital stating the date of her arrival and the fact that she was under the care of the orphanage until 27 May 1897. Marie was adopted by Mr. and Mrs. Elbert H. Eddy of Chicago, Illinois on 15 June 1897.
We have a letter from Mrs. Olive Eddy Perry dated 5 March 1966, a granddaughter of Elbert H. Eddy and Maria Smith Currier the adopted parents of Marie. The letter gives us the following information:
Elbert H. Eddy was a traveling seed salesman for the Vaughn Seed Co. Mrs. Perry states that her grandmother did not see Marie until the day she arrived to live with them. Upon the death of Elbert H. Eddy (30 September 1898) Maria Smith Currier Eddy went to live with Olive's mother, who would have been her daughter-in-law. Olive's mother was Eva L. but we have no madden name. This was a strange arrangement since Eva and Elbert Bertram Eddy (son of Elbert H. and Maria Smith Currier Eddy) were divorce by this time. Olive states in her letter that, "Grandma dressed Marie beautifully. Grandmother was a cruel woman–proud." ("Grandma" being Maria Smith Currier Eddy)
It seems that Maria Smith Currier Eddy had been treated unjustly in her mother's will. Olive's mother was instrumental in getting a fair adjustment for Maria. Maria then bought a home in Valparaiso, Indiana. This is where Marie met Harvey Field, her future husband. They both worked in the publishing business.
Olive goes on to state that Harvey and Marie spent their honeymoon with her family. She concludes her letter by saying that after Harvey and Marie were married there was a "coolness" between Maria Eddy and Marie and Harvey Field. It is generally thought in the family that Marie did not have a very happy childhood. She would absolutely never tell anyone, even her daughters, the details of her younger years.
There are two possible men who might have been Marie's natural father.One is her adopted father Elbert H. Eddy. He was a traveling seed salesman and just might have had an affair with a woman in New York and Marie was the resulting child. He may have decided the "right thing" to do was to "adopt" her and provide her with a home. He died 30 September 1898, when Marie was only seven years old leaving her with a stepmother who had been "wronged" by her husband. This was just one year after Marie's adoption. This could have been the reason Maria was "cruel" to Marie, a constant reminder of her husband's infidelity. Had Elbert lived he may have moderated Maria's behavior toward Marie.
The other possibility is that Elbert Bertram Eddy was her father. He was the oldest son of Elbert H. Eddy and Maria Smith Currier and possibly he fathered Marie while in New York and his father decided to adopt her. Elbert Bertram Eddy was 23 at the time Marie was born.
It is a fascinating story and the truth is that we will most likely never know the real story. The details died with Marie and maybe that is just how she wanted it to be.
Another interesting aspect of Marie's life is her relationship with Harvey O. Field. Harvey was a man with a complex personality. He was intelligent, self-made, confident and at times could be kind and generous and at other times stern and even cruel. Marie had an unfailing loyalty to him. As stated above he was the man that "rescued" her from a possibly unhappy childhood. He provided her with a stable secure life after their marriage. They met in Chicago while working for Glennon & Kern, some type of publishing company. He was definitely the dominant partner in their marriage but that was often the case in their era. We of course, have no idea if he consulted her before making major decisions but she always seemed to follow his lead. There are stories that he would change her choices of food in restaurants and she would not argue. At one point she wanted her kitchen modernized but he refused. However, the explosion of a pressure cooker while cooking beans made it necessary to for some repairs to be done to the kitchen.
We know of one time at least when Marie had the final word. Harvey was the owner/editor of the Nappanee Advance News from 29 July 1927 to 2 July 1953, when he sold the business. It was always the plan that upon Harvey's retirement his three surviving sons, Leslie, Howard and Glen would take over the operation of the paper. There was a point when Harvey was seriously contemplating retirement and was ready to turn the paper over to the sons. At that point Marie said no and she and Harvey continued to operate the business until his retirement in 1953. Before this time the boys had all gone into other lines of work and the paper was sold.
In her later years she suffered from high blood pressure. There were at least two occasions when she was near death and hospitalized. The family was advised that she would probably die. Each time she recovered saying, "I need to get home to take care of Harvey." There is also another family story that she lost her eyesight due to a blood clot in her brain. One evening her sight returned and she immediately wanted to see as many of the family photographs as possible. Unfortunately, regaining her vision was not permanent.
Harvey died 8 February 1966. Following the funeral Marie went with her oldest son, Leslie, and wife, Wanda, to Marion, Indiana. She died 15 February 1966, just one week later. We think it can be stated that with her major reason for living now gone she could die.
One story Wanda told was that at some point during the week she was at their home in Marion she did make the comment that she would like Les and Wanda to take her to "Hawayah." It seems that Marie had a longing to see Hawaii. Harvey would not taker her there. Most of their life they avoided flying. For their final visit to California to see their son Howard it was either fly or not go. They were not able to make the drive. As they were walking toward the plane Harvey told her she could still back out if she was too frightened but she got on the plane. The experience was so unexpectedly pleasant that they decided to take a bigger trip. Marie wanted Hawaii but Harvey chose to visit the capitals of several South American countries. That was their one big adventure in international travel.
Her adult life was not without its sad times. She lost one son, Guy Arthur, at birth in 1929. She tragically lost another son, Eugene Chester, at age 16. He was struck by a car while collecting insects for his biology class. His death was a great blow to her. Her daughters have commented that she was never quite the same after this tragedy.
Marie, "Grandma Field" was the "perfect" grandma. She loved her grand children and my fondest memories are of her in her kitchen making me pancakes in the shape of any animal I asked for. Of course turtles were my favorite!
By Eugene A. Field
8 January 2006