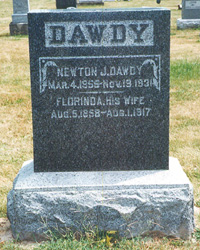 Newton J. Dawdy/Mar. 4, 1855-Nov. 19, 1931/Florinda, His Wife/Aug. 5, 1858-Aug. 1, 1917
Florinda was a daughter of William Farmer and Anna Jane Field. She was a great granddaughter of Keen Field and Anna Lewis.
Photo of Jasper Newton Dawdy and Florinda Farmer
This cemetery visited by Gene and Lucie Field, July, 1999.