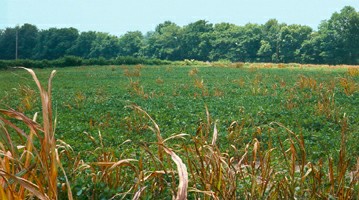 The first grist mill built in White River Township was of round logs, built by Keen Fields on military donation No. 11, and was a "horse power" with one run of buhrs or stone. The rule in those days was that each customer furnished their own power and did their own bolting. The first style of bolt was a box-shaped invention with a straight handle and a bottom made of wire, and was called a "sarch." The grist after ground was put into this sarch, which was pushed by hand back and forth along the top of an open trough, a log hollowed out, which held the flour as it was sifted from the sarch. They called this flour, and the good housewife made it into bread and biscuits that were a great luxury in those days of pestled meal and hominy.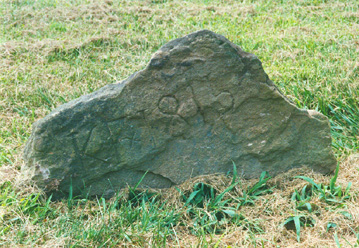 Keen Fields was, perhaps, the next white settler [the fourth]. He came to the township in 1799, and settled on military donation No. 11, and built a log cabin for a dwelling for himself and family. He was a native of Tennessee moved to Kentucky and lived there some time, and from there he moved up the Mississippi River to were St Louis now is, located and remained until driven away by fever and ague, when he moved Indiana Territory. He was the father of ten children, eight boys and two girls, named as follows:-Elizabeth, Abraham, Benjamin F., Joseph, Steven L., Thomas, Cynthia, Reuben, Ezekiel and Keen, all of whom are now dead except Keen, the youngest child. His wife's maiden name was Annie Lewis. Abraham Fields, the eldest son of Keen Fields, came to the township in 1799 at the age of six years, and lived with his parents until 1816, when he married Miss Grace Rainey, and settled on military donation No. 10, adjoining his father's land. The children of this union were Keen W., Nancy A., Cynthia A., Benjamin R., Joseph J., and Steven L. Fields, all of whom are yet living except Joseph J. Abraham Fields in his day was honored with the office of trustee of White River Township. Benjamin R. Fields, the fourth child, and second son of Abraham Fields now owns and lives on the farm settled by his father, and is a worthy descendant of this honorable pioneer.

This was excerpted exactly as written from the History of Gibson County. Jas. T. Tartt. Edwardsville, Ill., 1884, page 184.
Top photograph: Military Donation No. 11, looking north from the Old Field-Morison Cemetery, taken in 1997 by Eugene A. Field.
Bottom photograph: Original tombstone of Keen Field in the Old Field-Morrison Cemetery on MD No. 11 taken by Eugene Field. It is rare to find original tombstones with date this early in southern Indiana.
The following corrections are to be noted:
This branch of the Field Family has historically spelled the name FIELD, without an "s." Six documents exist in the Virginia State Library with the signature of Keen's father, Abraham Field. On each document he uses the name "Field." Source: Virginia State Library, Archives Division, Richmond VA, Revolutionary Pensions, Box 10, Folder 143, concerning Abram Field, Soldier, 45 pages.
Keen Field was a native of Culpeper County, Virginia. He was most likely between 18 and 21 years old at the time of his marriage on 29 March 1793. His Father, Abraham (1744-1822) immigrated to the Falls of the Ohio with at least three children in 1784. Therefore, Keen would have been born in Virginia. Sources: Appleman, Roy E., "Joseph and Reuben Field, Kentucky Frontiersmen of the Lewis and Clark Expedition and Their Father, Abraham", In Genealogies of Kentucky Families, Genealogical Pub. Co., Inc. Baltimore, 1981, pg. 489. Hasskarl, Eula, Shelby County, Kentucky Marriages 1792-1833, vol. 1., Adam, Oklahoma, 1983.
Tartt lists one of Keen's son as Benjamin F. He is really Benjamin R.