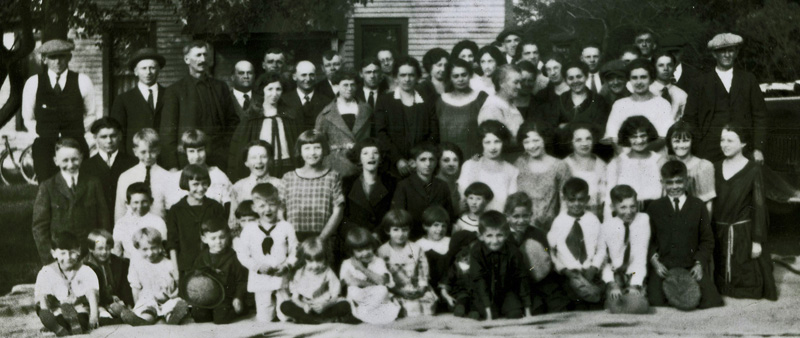 This photograph was taken at the Wilson Family Reunion in 1923. Many of the people are familiar but unfortunately we can only identify a few. Those that we can name are listed below. If any one seeing this photograph can identify more of the people please contact us. The reunion was held at Isaac Wilson's home. Click on image for larger version.
Back row left to right: 6th man (bald) Monroe Wilson, Bert Arch, Floyd Grasz, Tressa Wilson, man No. 16 is Zellard Goodman and the woman to his left is his wife Viola Myrtle Wilson.
Second row left to right: Sarting with the woman to the left of the bald man as No. 1 for second row No. 3 is Chloe Wilson Arch (little white collars), next is Isabelle Arch Walters (scoop neck dress), Florence Keesey Wilson Beeber (sideways), No. 8 is Fannie Wilson Kiste. The boy with the hat is possibly a Kiste, next is possibly Hazel Miller Wilson, the last man on the right is Charles Marion Kiste.
Row of kneeling young people left to right: 10th from left a Goodman girl, 11th one smiling scoop neck Jeannette Arch Wright, then possibly another Goodman girl. The last one on the right is Carolyn Arch McCuen.
Children sitting left to right: 3rd one Miriam Grasz Field, next one with the hat is possible Paul Elison Wilson, 5th one in the sailor suit on his knees is Fred Arch, next to him is possibly Arlene Wilson. After that I do not know. Many of these people are in the 1929 and 1930 photo.
These are the descendants of John Benjamin Wilson and his two wives, Mary E. Crockett and Susannah Barbara Adams.
This photograph was provided by Phyllis Freshour Keller. John B. and Susannah Wilson were Phyllis' great grandparents.
Click on image for larger view. After changing views use back button to return to desired view.