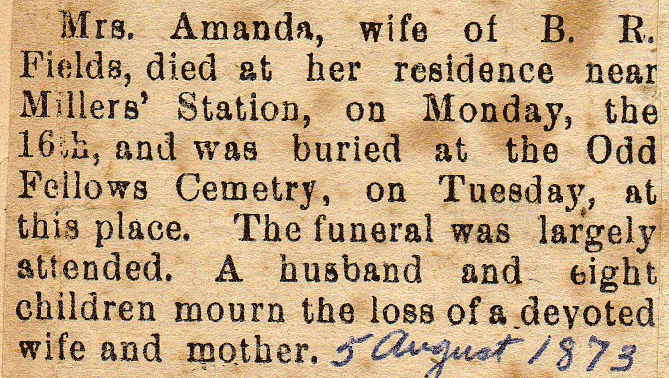 The above obituary was found as a clipping in a scrapbook belonging to Harvey O. Field. Harvey was a grandson of Benjamin and Lydia Field. There was nothing to indicate which newspaper it came from or the date of publication. It was copied by Miriam Grasz Field about 1968.
Benjamin R. Field and Amanda E. Dills Sanders were married 1 December 1875. Benjamin and Amanda had one daughter, Ruth E. born 25 July 1877, and died 21 December 1881. She is also buried in the IOOF Cemetery, Hazleton, Gibson County, Indiana
There is another interesting connection between Amanda Dills Sanders and Lydia Ellen Brown, the first wife of Benjamin R. Field. Amanda was previously married to a physician, Willliam Sanders. Amanda and William had eight children, one of whom was Alice Grey Sanders, born 27 August 1854. On 15 July 1874, Alice married David T. R. Brown who was a younger half-brother of Lydia Ellen Brown.