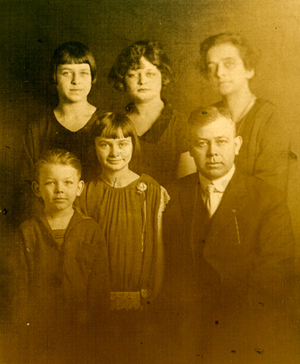 Carolyn Arch McCuen
June 5, 1914 - September 13, 2006
ELKHART -- Carolyn F. McCuen, 92, of Elkhart, died at 3:10 a.m. Wednesday (Sept. 13, 2006) in Greenleaf Living Center.
She was born June 5, 1914, in Nappanee, to Bert and Chloe (Wilson) Arch. She married Lester O. McCuen on Aug. 16, 1935, in Bristol. He died June 9, 1992.
She is survived by two daughters, Nancy (Pete) Fullmer and Peggy (Raymond) Young, both of Elkhart; two sons, Charles (Joan) McCuen and Douglas (Judy) McCuen, both of Elkhart; nine grandchildren and 14 great-grandchildren.
She was preceded in death by a grandson, Kevin Fullmer.
Friends may call from 10 a.m. until the 1 p.m. Monday funeral service at Hartzler-Gutermuth-Inman Funeral Home, 403 W. Franklin St., Elkhart. The Rev. Larry Kurtz will officiate. Burial will be at Chapel Hill Memorial Gardens, Osceola.
Mrs. McCuen was employed in the business office at Concord High School until her retirement.
She was a member of Faith United Methodist Church, the Married Women's Club and a graduate of Nappanee High School. Mrs. McCuen enjoyed traveling, and was an avid basketball and tennis fan.

The Arch family: Back row - Jeanette, Isabell, Chloe Wilson, front row - Burdette, Carolyn, Bert, Nappanee, Indiana, 1930

Carolyn Arch Mc Cuen was a second cousin of Miriam Elaine Grasz Field, the mother of Eugene A. Field. Miriam's mother, Tressa Ethel Wilson and Carolyn's mother, Cloe Adella Wilson, were cousins. Carolyn's brother, Frederick Burdett Arch, was born the same year as Miriam. They were life long friends untill his death in 2007.
The article was found online in the obituaries of the Elkhart Truth, Elkhart, Indiana