Floyd M. Grasz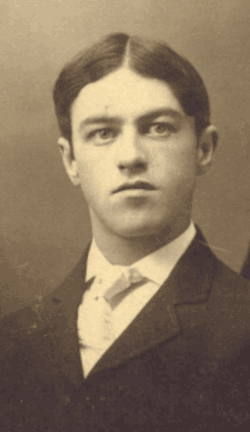 Jan. 18. 1886-July 9, 1979
Floyd M Grasz, 93, formerly of Nappanee, who had resided at Greencroft Manor, Goshen, died Monday, July 9 at the Greencroft Nursing Center.
Born January 18, 1886, in Nappanee, Mr. Grasz was the son of Henry and Mary (Irwin) Grasz. He Married Tressa Wilson on April 15, 1906, and she died March 11, 1931. His second marriage was to Hazel Blosser on December 31, 1931, and she survives.
Mr. Grasz has been a self-employed shoe cobbler. He was a former member of the Napanee Volunteer Fire department, and a member of the Nappanee Church of the Brethern.
Surviving with Mrs. Grasz are a daughter, Mrs. Howard (Miriam) Field, Kingsburg, Calif., and three grandsons, Eugene, John and Dennis Field all of California, and three great grandchildren. Two brothers and a sister preceded him in death.
Rev. Gene Hipskind will conduct services Friday, at 1:30 p.m. at the Wright-Yoder Funeral Home and burial will be at Union Center Cemetery.

When Floyd was 17 his parents went to live in the Indiana State Soldier's Home in Lafeyette, Indiana. He lived with his brother Will, untill 1906, when he married Tressa Ethel Wilson. Floyd and Tressa were married in Nappanee, 15 April 1906.
After twelve years of marriage Floyd and Tressa had a daughter, Miriam Elaine. Miriam is the person responsible for the original genealogical research leading to this web-site.
When Miriam was just 12 years old when Tressa died. She had a very long battle with breast cancer. Within the year Floyd married Hazel Blosser, also of Nappanee. Hazel was the daughter of Elias Blosser and Amanda Culp. Hazel's brother was Merrill Blosser, famed for his cartoon, Freckles and his Friends.
The battle to save Tressa left Floyd in a financial crisis. He rented out his large home and with Miriam and Hazel he moved into Mandy Blosser's big house. This was quite traumatic for Miriam. She not only lost her mother at a very crucial age but was forced to live with a stepmother and step grandmother. Mandy rented out her bedrooms to borders and Miriam was forced to sleep on a cot in a hall way. Eventually Floyd became financially independent and the family was able to move back into their own home
Miriam recalls one very funny incident that happened while living in the Blosser house. Mandy made fruit leather and dried it on cookie sheets on an upstairs porch. One day while Miriam was nearby Mandy went out on the porch to check on the progress of the fruit leather. As she was walking around inspecting her project she slipped and fell onto the cookie sheets and got covered with sticky fruit juice. This struck Miriam as extremely humorous and she hid in a closet so that she could laugh and not be seen by Mandy.
Throughout his life Floyd was involved in various trades. He was a carriage maker, a pinstriper, cabinet maker at Coppess' Factory, and a self employed shoe cobbler.
Floyd was a very gentle person with a quick laugh and a joking comment. He was a small man but a very proud man. He was a meticulous shoe cobbler and worked long hours in his shop attached to his garage behind his house on Market Street. He was a devoted father and wonderful grandfather.