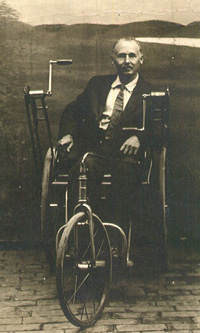 As near as can be ascertained, the Frymires originally came from Holland. Their descendants are scattered throughout the United States, but, like the majority of people, especially of an early day, family records of their ancestors were very seldom, if ever, kept or thought of, so we are unable to get further back than David and wife, Grace, who came to Kosciusko County from Ohio about the year of 1800.
Of this family there were five boys and two girls: namely, William, John, Jane, James, Alfred, Rosette and Levi.
William, the eldest, never married. John was married to Margaret McNeal, and to them were born seven children: five boys and two girls; namely, David, Samuel, Sarah, Harvey, Victoria, Nelson and John.
Jane was married to John Allen, and to them were born six children: two boys and four girls; namely, William, Cynthia, Amelia, James, Mary and Addie.
James was married to Isabelle Gohn, and to them were born eight children, four boys and four girls, namely: Rebecca, infant son, Mary Malissa, John Franklin, Elizabeth Rosette, Chauncey Edwin, Mahala Savilla and William Henry.
Alfred was married to a Miss Mengis and begat one daughter.
Rosette was married to James Tennant, but without issue.
Levi was unmarried.

Comments:
Alfred's wife was Elizabeth Mangus.
The author, John Franklin was born on 22 November 1856 and died on 6 July 1932, in Warsaw, Koscuisko County, Indiana. He is buried in the Graceland IOOF Cemetery, Claypool, Indiana. He was confined to a wheel chair for most his life.
His parents, James Frymire and Isabell Gohn, kept a family Bible
The photo is of John Franklin, at Warsaw, Indiana, 18 September 1913.