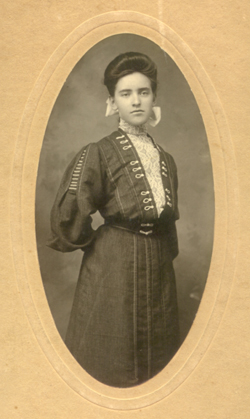 Hazel Blosser Grasz
Feb.16, 1889–Dec. 31, 1984
Hazel Grasz, 95, of 1225 Greencroft Drive, Goshen, formerly of Nappanee, died Monday evening at Greencroft Nursing Center, after an illness [end of paragraph unreadable]
Mrs. Grasz was born February 16, 1889, in Nappanee, and was a lifetime area resident. On December 31, 1931, she married Floyd Grasz, and he died July 8, 1979.
Surviving are a step-daughter, Miriam Field, of Kingsburg, California; two grandchildren; four great-grandchildren, and a sister, Blanche Frick.
She was a member of the Nappanee Church of the Brethern.
Burial was at the Union Center Cemetery. There was no visitation. A memorial service will be held at a later date.
Yoder-Culp funeral Home, Goshen, had charge of the arrangements.

Hazel Blosser was the youngest of the four children of Elias Blosser and Amanda Culp. On December 31, 1931, she married Floyd M. Grasz. Floyd's first wife, Tressa Ethel Wilson had died the previous March. Floyd and Tressa had a daughter, Miriam Elaine. Miriam is the person responsible for the original genealogical research leading to this web-site.
Hazel worked most of her adult life in her father's shoe store. She was forty two years old when she and Floyd were married. Tressa had died after a long illness and Floyd had used up his financial resources in medical bills. As a result, Floyd and Miriam moved into the home of Hazel's parents.
Hazel was a very intelligent person and attended Manchester College, North Manchester, Indiana for a while. At one point in their lives Floyd and Hazel were the oldest married couple having both been born in Nappanee. A person from the Nappanee Library made a recording of her talking about her memories of Nappanee. In the course of the conversation she said that at one point she knew who lived in every house in Nappanee.
Hazel's oldest brother was Merrill Blosser, the creator of Freckles and His Friends. When Merrill retired Freckles was the longest running syndicated cartoon in the United States.