Keen W. Field (1817-1906)
Petition--Admitting Will to Probate

The State of Illinois,
Shelby County
In the County Court. In Probate.
March Term, A.D. 1906
To the HON. THOMAS H. RIGHTER, Judge of said Court:
The undersigned petitioner John W. Field respectfully represents to your Honor that the attached instrument of writing purports to be the Last Will and Testament of Keen W. Field deceased.
That the said deceased departed this life at Shelbyville Illinois on or about the 2nd day of March A. D. 1906 and also that he at the time of his death, resided at Shelbyville in the County of Shelby and State of Illinois.
Your Petitioner further represents that the said Keen W. Field left, at the time of his death, the following named hiers and legatiees, to-wit:

NAMES
State nature of
relationship
POST OFFICE ADDRESS
(If residence is unknown then so state)
Nancy D. Field
Widow
Shelbyville, Ills
John W. Field
Son
do
Benjamin S. Field
"
Rock Island, Texas
Keen W. H. Field
"
Langdon, Kansas
Cordelia Rawlings
Daughter
Strasburg, Ills
Cynthia Fling
"
Rock Island, Texas
Mrs. Sarah E. Lane
Grand Daughter
St. Charles, Mo
Mrs. Ida M. Palmer
" "
do
H. V. Randolph
" Son
do
Mrs. Emma J. Lane
" Daughter
2712 N 13th St St Louis Mo.
Mrs. Nancy A. Shanon
" "
St. Charles Mo
Mrs. Stella B. White
" "
do
Joseph A. Randolph
Grand Son
1053 N 2nd St San Bernadino Cal

And the above named persons are all the heirs at law and legatees ____________________





Your Petitioner further asks that the Last Will and Testament _________________ be admitted to Probate.
John W. Field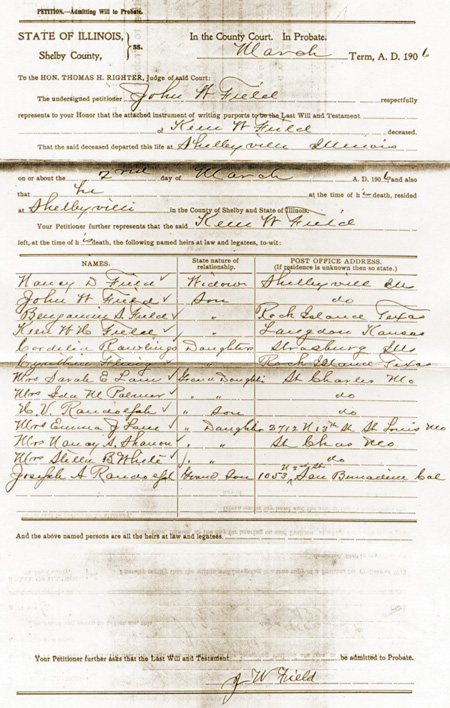 Keen Withers Field was the oldest son of Abraham Field and Grace Rainey. He was born in Gibson County, Indiana on 11 February 1817. In October, 1869 he moved his family to Richland Township, Shelby County, Illinois. By 1901 he was living on North 3rd, in Shelbyville, Shelby County, Illinois. The grandchildren are all sons or daughters of Cordelia Field and Lloyd W. Rawlings.
Document: Probate Docket of Keen W. Field--Petition--Admitting Will to Probate, Estate 85, Shelby County Court House, Shelbyville, Illinois, 12 March 1906.
Related links:

Introduction to the Field Family
Keen W. Field Groupsheet