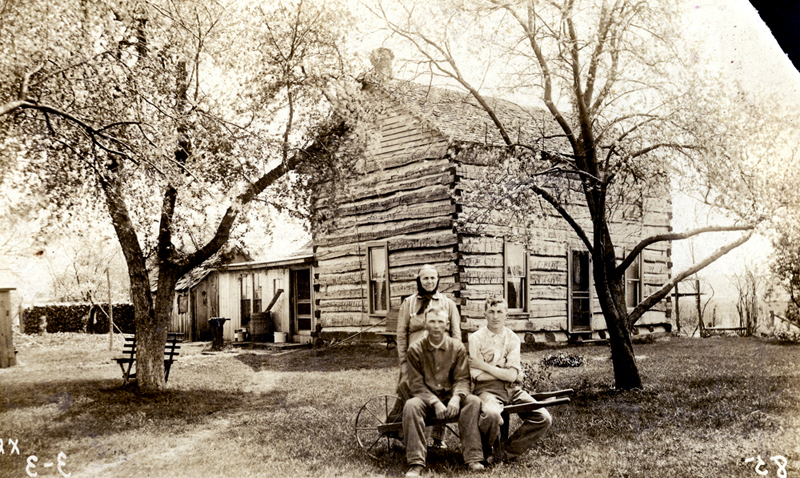 The John Benjamin Wilson Homestead
Clay Township, Kosciusko County, Indiana
Our branch of the Wilson Family begins with Robert Wilson (1718-1794) and Mary Douglas (abt. 1722-1791) who were both born in Scotland. In 1738 they immigrated to Bowls Plantation, Charles County, Maryland and then into Frederick, now Montgomery County, Maryland.

Their sixth child was James Wilson (1751-1828) who married Anne Johnson (abt. 1754-1827). In 1881 they move to Washington County, Pennsylvania. Their first child, Douglass Wilson Sr. (1778-1846) married Jeanette Ossie Hinds in Pennsylvania and they moved to Stark County, Ohio. Their youngest child, John Benjamin Wilson (1823-1903) married Mary E. Crocektt. There are some reasons to believe that Mary is a relative of Davy Crockett.

In 1865 John and Mary moved to Kosciusko County, Indiana. Mary died probably as the result of the birth of their ninth child, Mary, who died soon after birth. By that time John had several living children. For a while he lived with Samuel Snoke a close neighbor and it seems the children were living elsewhere. In 1870 he married Susannah Barbara Adams a neighbor and they had four children. John and Susan built a two story log home referred to by later generations as the Wilson Homestead. The old log cabin was the site of many of the Wilson Family Reunions until it was demolished sometime in the 1950s. Today there is a little red brick school house on the John B. Wilson property at the junction of County Farm Road and County Road 700 in Kosciusko County. John, Elizabeth and Susan are buried in the Mt. Pleasant Cemetery in Kosciusko County.

The family has continued to expand. Many still live in the northern Indiana area while others live as far from Indiana as Seattle, Washington, and central California.
Wilson Family Links:

Photo Ancestor and Descendant Tree from John B. Wilson

Individual Reports of the Direct Wilson Ancestors from Robert Willson (1718-1794) To Lucie Field

Wilson & Keesey Family Reunions

1900, 1905, 1914, 1918, 1923, 1924, 1926, 1928, 1929, 1930, 1940s

Elkhart County, Indiana

The home of Robert and Rose Wilson, Walnut St., Nappanee, Indiana

Floyd & Tressa Wilson Grasz with Viola Wilson & Zellard Goodman about 1907
Kosciusko County, Indiana
St. Jospeh County, Indiana
Whitley County, Indiana

The Emma Wilson Barnes & Frank Hartman family about 1944
Washington County, Pennsylvania

Descendents of James Wilson (abt. 1750-1831)
Stark County, Ohio

This log home was built by John Benjamin Wilson. Most likely after 1869. John was born in Stark County, Ohio, on 23 March 1823. He married Mary E. Crockett on the 23rd of November 1847. They lived in Ohio until 1865 when they moved to Clay Twp., Kosciusko County, Indiana. Mary and John had nine children: Osse, Benjamin, James, Edgar, William, Horace, Laura, Lewis and Mary. Osse, Laura, Lewis and Mary all died very young. Mary E. died in 1869 quite likely as a result of the birth of Mary, their last child.
For a a few months after Mary's death John lived with Samuel Snoke, a neighbor. During that time we find Horace and Bnjamin living with nearby families we cannot find the other children. On 22 December 1870 John marries Susannah Barbara Adams, the daughter of another neighbor Isaac and Fanny Adams. At some point he acquired the property were this home was build. We have no records of the house being built.
With Susannah (often referred to as Susan) John had four more children. Isaac, Monroe, Harvey and Fanny. We are not sure if Mary's children joined the family again or lived separately. We do think that the children from both wives had amicable relationships as they had family reunions with descendants of both wives in attendance until about 1964. From records of the Wilson family the reunions were held at the old homestead until about the 1930s. My mother, Miriam Grasz Field remembered going to the reunions at the old homestead.