Mrs. Tressa Grasz Dies At Her Home Wednesday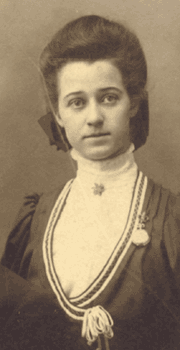 Mrs. Tressa Ethel Grasz died Wednesday morning at 7:40 a.m. at her home on 356 West Market St., at the age of 45 years one month and eighteen days. She had been ill for about two years with cancer.
Mrs. Grasz was born Jan. 20, 1886 at Claypool, Ind. She was the daughter of Mr. and Mrs. Robert E.. Wilson, deceased. On April 12, 1906, she was married to Floyd M. Grasz at Nappanee and had lived in this city about twenty-six years.
Funeral services will be held Friday afternoon at 2:00 o'clock at the First Brethern church, Rev. B. F. Owen officiating. Mrs Grosz [sic] was a member of the Loyal Workers Sunday School Class and the Women's Missionary Society of this church. Burial will be at Union Center cemetery under the direction of undertaker A. E. Wright.
Surviving are her husband Floyd M. Grasz, one daughter, Miriam Elaine, age 12 years, one sister Mrs. Isabelle Simison of Columbia city and several nieces and nephews.

Tressa Ethel Wilson was born 20 January 1886, in Claypool Indiana. Her parents were James Robert Wilson and Elizabeth Rosette Frymire. Her only sister was Emma Wilson. Tressa married Floyd M. Grasz 15 April 1906 in Nappanee, Elkhart County, Indiana.
After twelve years of marriage a daughter, Miriam Elaine, was born to Floyd and Tressa. Miriam is the person responsible for the original genealogical research leading to this web-site. Twelve years after Miriam's birth Tressa died of cancer. On January 31, 1931, Floyd married Hazel Blosser also a native of Nappanee. Hazel was the daughter of Elias Blosser and Amanda Culp. Hazel's brother was Merrill Blosser, famed for his cartoon, Freckles and his Friends.