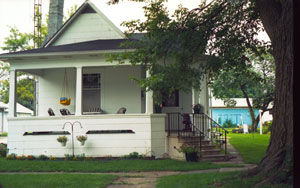 Lorenzo H. Turner
Died at Six O'Clock Saturday Evening–
Had Been a Resident of Illinois Three Quarters of a Century
Lorenzo H. Turner, one of Shelby county's earliest pioneer citizens, passed from earthly scenes at his home on West North Third street at six o'clock Saturday evening. Death was caused by pneumonia.
Mr. Turner was born of Virginians, and inherited all the suavity and gallantry for which those people are noted. He was born in Tennessee, his parents having settled in that state soon after their marriage, landing in Wilson county in 1823. L. H. Turner was born while his parents were residence of Wilson county, Tenn., his natal day being May 14, 1826. He was only four and a half years old when his parents moved to what is now Effingham county, Illinois. There he lived and worked on his father's farm till 1845, when he established a home for himself. On September 23, 1845, he was united in marriage with Miss Cynthia Field of Gibson county, Indiana. After marriage they settled in Effingham county, Illinois, where they continued to reside till in April, 1864, when they moved to Richland township, Shelby county. There they lived and by strict economy and hard work, Mr. and Mrs. Turner accumulated a comfortable fortune. Mr. Turner was the owner of nearly three hundred acres of fine land upon which he had many fine improvements. This farm he sold several years ago when he retired and moved to Shelbyville. He moved to Shelbyville about the year 1891. Mr. Turner was twice married, his first wife who was his companion and walked by his side for more than half a century, passed away about five years ago. About three years ago he was united in marriage with Mrs. Nicolai, widow of the late Philip Nicolai, of this city. To him by his first wife six children were born, all surviving, and are: James B. Turner and Mrs. Nancy J. Storm of Shelbyville, Wiltse Turner of Oklahoma, Charles A.B. Turner of Texas, Mrs. Sarah E. Grove of Louisiana, and Arthur Turner of Terre Haute. Besides his wife, sons and daughters, he is survived by three brothers, N. C. Turner of Altamont, David Turner and Wiltse Turner of Mason, Effingham county. Two of his aged brothers, David and Nathaniel C. Turner, attended the funeral. His other brother, Wiltse Turner, was seriously hurt a few weeks ago and was unable to attend the funeral.
During Mr. Turner's active life he was a man of great influence among men. He was possessed of a strong and vigorous mind and at all times advocated right living and right doing. He was held in high esteem among his neighbors, and at various times was elected to offices of trust and responsibility. In his religious life he was a devout member of the Missionary Baptist church from 1854 till 1903, when he changed his membership to the Presbyterian church, in which faith he died. He had been a member of the Masonic order since 1863.
The funeral services were conducted at the family residence on North Third street at 9 o'clock Monday morning, Revs. Tracy and Wright officiating. The Masonic order had charge of the arrangements of the funeral and, together with the sorrowing family and friends, accompanied the remains to Ash Grove cemetery, where interment was made.

May 25, 1905
Shelbyville Democrat, pg. 1
Shelbyville, Shelby County, Illinois
Comments: Lorenzo H. Turner was married to Cyntiha Anne Field. Cynthia was a daughter of Abraham Field and Grace Rainey and a granddaughter of Keen Field and Anna Lewis
The photograph above is the retirement home of Lorenzo and Cynthia, 303 West N. Third St., Shelbyville, Shelby County, Illinois. They moved to this home in 1891.