Keen Withers Field (1817-1906) was George's uncle, his father's older brother. He married three times and had thirteen children and four step children. Sometime between 1860 and 1970 he moved from Gibson County, Indiana, to Shelbyville, Illinois.
His first two wives were sisters, Judy and Sarah Duncan. He had a daughter Mary Ellen who died at ten years of age. It is reasonable to think that George and Lavica named their Mary Ellen after Keen and Judy's daughter.
Of course there is no way to know the real family dynamics from over one hundered years later but from the evidence we think George's father Benjamin, had a good relationship with his siblings. Keen moved first to Shelbyville and then Benjamin and a sister Cynthia Ann Turner also moved there. They lived in three neighboring homes. Another sibling, Nancy Field Richards died while visiting her siblings in Shelbyville.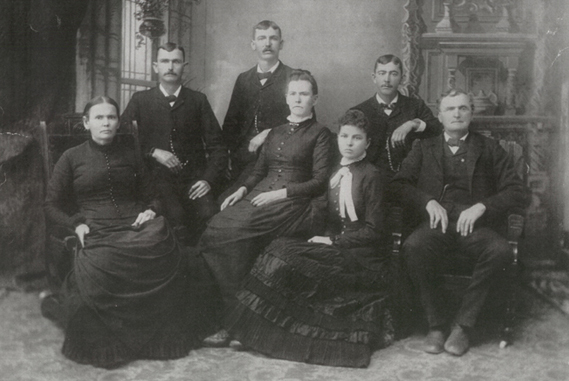 This is the family of Keen Withers Field about 1885. Left to right: Charity Field Randolph, John William Field, Benjamin S. Field, Cordelia Field Rawlings, Cynthia Field Fling, Keen W. Howard Field, Keen Withers Field. Keen was married to Nancy D. Blyth by this time but she was not the mother of any of his children.