William Grasz, Blacksmith, Dies at Age of 86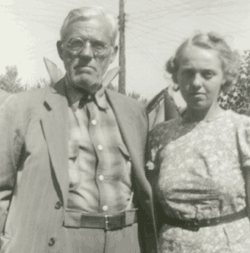 William H. Grasz, 86, died Aug. 20, in a Marshfield, Wis. Hospital where he had been a patient for several weeks following treatment and surgery.
He was born in Wakarusa, March 6, 1873, the eldest son of Mr. and Mrs. Henry Grasz and was a blacksmith in Nappanee until about 1919.
His first wife Emma Mellinger, preceded him in death. After her death he married Minnie Kercher of Akron, who survives.
Other survivers include a brother, Floyd of Nappanee and a niece, Mrs. Howard Field of Fresno, Calif. Funeral services were in Athens, Wis. Aug. 22.

William H. Grass was born in Wakarusa, Elkhart County, Indiana 2 March 1873. His parents were Henry and Mary Dorcas Irwin Grass. He was a blacksmith by trade. As with most people he had other interests and activities and it is known that he was a guide and cook for hunting expeditions at times.
His first wife Emma Mellinger, died in 1910. Emma is buried in the South Union Cemetery, Elkhart County, Indiana. The monument at her grave site is also inscribed with William's name but he is buried in Athens Village Cemetery, Athens, Wisconsin. His father and brother Hugh also died the same year. He married Minnie Kercher some time later and moved to Marshfield, Wood County, Wisconsin.
The photo of William is with his niece Miriam Grasz Field, the only daughter of his brother Floyd of Nappanee, Indiana, and his first wife Tressa Ethel Wilson.
The various spellings of the family name–Gross/Grass/Grasz--derives from the fact that each member or the family used a different spelling. The immigrant ancestor John Henry Gross, born in Germany 14 January 1779, spelled it Gross. All of his children went by Grass. His son Lewis Grass had seven children and they all used the Grass spelling except for Christena who used Gross. Henry Grass, a son of Lewis, used Grass consistently as it appears on all of his official documents. Henry had four children and they used two spellings. The two eldest used Grass and the two youngest used Grasz. Although William used the Grass spelling the obituary was from the Nappanee Advance news and the family living in Nappanee used the Grasz spelling.