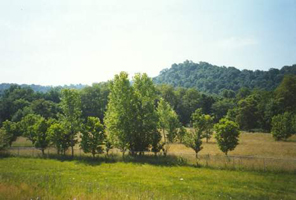 Abraham Field was born about 1744 in Culpeper County, Virginia, where his family had lived since the early 1700's. His father was a son of Abraham Field, originally from Westmoreland County, Virginia, and Elizabeth Withers of Stafford County, Virginia. It is highly likely that his father was Keene Field of Culpeper County, who died sometime before May 1754. Nothing is known of his mother. He had one sibling, a sister, who married William Cardwell.
Around 1771, Abraham married a woman named Elizabeth. Nothing is known about her or her family. They had seven children, six of whom where born in Culpeper; Ezekiel, Keen, John, Joseph, Reubin and Mary. Their last child, Cynthia, was born in Kentucky.
When Abraham was about thirty he was a private under the command of General Andrew Lewis. On October 10, 1774 he was wounded in the shoulder at the Battle of Point Pleasant, a part of Dunnmore's War. This wound was severe enough to earn him a lifetime pension, granted by the House of Burgesses. Abraham had to appear regularly in court to keep this pension. His uncle, Col. John Field, lost his life in this battle.
Abraham continued to live in Virginia for another 10 years before moving his family to the Louisville region of Kentucky. In 1784, when he was about 40 years old Abraham and Elizabeth brought their family through the Cumberland Gap on what was at that time only a pack horse trail. They stopped first at the Falls of the Ohio, settling a year later at the Fish Ponds near present day Okolona. Abraham worked mainly as a hunter in the years 1785-1787. Beginning in 1786, he worked as a surveyor, finding the best location for roads. He served on many juries and in 1788 he served a term as Deputy Sheriff for Jefferson County.
By the early 1800s Abraham had moved to Pond Creek near the Salt River in the Knobs area south of Louisville. He lived here until 1814. By this time all his children had moved away from home and both he and his wife had reached old age. They moved in with their daughter, Cynthia and her husband, William Lewis. Here Abraham did small jobs for his son in law, making hoe and axe handles, worked in the garden and rode errands on horseback.
Abraham died in 1822; he was roughly 78 years old. Elizabeth died sometime after 1825.
By Lucie C. Field
December 2005

Sources:
Appleman, Roy E., "Joseph and Reuben Field, Kentucky Frontiersmen of the Lewis and Clark Expedition and Their Father, Abraham", In Genealogies of Kentucky Families, Genealogical Pub. Co., Inc. Baltimore, 1981.
Briggs, Richard. A., Pioneer Settlers and Related Families at the Mouth of Salt River (West Point, Kentucky), Vine Grove, Kentucky: Ancestral Trails Historical Society, Inc., n.d.
Cook, Michael Lewis ed., Kentucky Pioneer Genealogy & Records, Vol. 1, No. 2, Cook & McDowell Publications.
Dorman, John Frederick (comp), Culpeper County, Virginia, Deeds Vol. 4, 1765-1769.
Franklin, Anne York, Compiler, Clues for Revolutionary War Soldiers With Connections to Louisville and Jefferson County Kentucky, Ancestors Incorporated.
Will: Capt. Abraham Field, 2 July 1774, Will Book B, page 154, Culpeper County Court House, Culpeper, Virginia.
Withers, Robert Edwin (presented by), Withers Family of the County of Lancaster, England and of Stafford County, Virginia establishing the Ancestry of Robert Edwin Withers III, The Dietz Printing Company, Richmond, Virginia, 1947.
Yater, George H. and Carolyn S. Denton, "Nine Young Men From Kentucky", We Proceeded On, Publication No. 11, May, 1992, Lewis and Clark Trail Heritage Foundation, Inc.