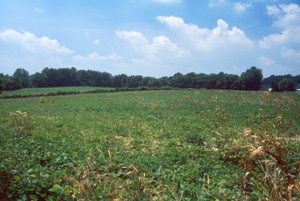 Keen (Cain) Field, was born about 1774, in Culpeper County, Virginia. His parents were Abraham and Elizabeth Field. He was the second of seven children. When he was 10 years old his family moved to the Falls of the Ohio. They followed George Rogers Clark who founded Louisville in 1778. Only one of his siblings was born after the family settled in Kentucky. Two of his younger brothers, Joseph and Reuben, are remembered for being members of the Corps of Discovery (The Lewis and Clark Expedition). Little is known of his childhood. His father was a hunter and surveyor and without a doubt he accompanied his father on some of these activities. Having been raised in the Kentucky wilderness he gained the skills need to survive in sparsely inhabited southern Indiana. At the age of 19, in 1793, he married Anna Lewis in Shelby County, Kentucky.
Their first child, Abraham, was born just nine months after they were married. Their first five children, Abraham, Elizabeth, Benjamin, Cynthia and Joseph were born in Kentucky. The last five, Stephen, Thomas, Reuben, Ezekiel and Keen were born after they moved to Indiana. The last child, Keen, was born about seven months after his fatherís death.
In 1799 he claimed land in Knox County now Gibson County, Indiana. Prior to this Keen may have moved up the Mississippi to the area of St. Louis. Keen and Anna eventually settled their family on Military Donation No. 11. Here he farmed and built the first grist mill in White River Township. Again, little is known about his life. In 1810 he was one of a group of county road viewers, surveyors and supervisors. Prior to this he served on a jury. In 1813 in what was the first incident of its kind in the county Keen was fined $1.00 for a breach of the peace.
He died relatively young at about the age of 45, in 1815. He is buried at the south east corner of his property in the Field/Morrison Cemetery. His grave was at first marked by a simple triangular stone from the surrounding field with "KF 1815" carved into it. A list of his processions was one of the first to be filed with the county courthouse. In September of 1999, Eugene and Lucie Field placed a new tombstone next to the orginal one.
Even less is known about the life of Anna Lewis. She was born in 1773 and her father may have been Stephen Lewis of Loudon County, Virginia. After Keenís death Anna appeared in court several times to gain guardianship of her minor children. In 1838 she moved with the family of her son Keen Withers Field to Wilmington Precinct, Greene County, Illinois. She died sometime afer 1850, the last time her name appears in a Green County census with the family of her son Keen.
By Eugene A. Field
December 2005

Sources:
Appleman, Roy E., "Joseph and Reuben Field, Kentucky Frontiersmen of the Lewis and Clark Expedition and Their Father, Abraham", In Genealogies of Kentucky Families, Genealogical Pub. Co., Inc. Baltimore, 1981.
Barekman, June B., Knox County Indiana Early Land Records and Court Indexes 1783-1815, Vol III, Genealogical Services and Publications, Chicago, 1968 [Princeton Public Library].
Census of Indiana Territory for 1807, Indiana Historical Society, 1980.
Cook, Michael Lewis ed., Kentucky Pioneer Genealogy & Records, Vol. 1, No. 2, Cook & McDowell Publications.
Cook, Michael L., Pioneer Lewis Families, Vol 1., Cook Publications: Evansville, Indiana, 1978.
Estate Record: Keen Fields, Box 39-4 & Will Book A, pg. 5-10, Gibson County Courthouse, Princeton, Indiana.
Marriage Bond: Cain Field and Anne Lewis, #4, 1793, Shelby County Clerks Office, Shelbyville, Kentucky.
Nolcox, Terry L., comp., Gibson County, Indiana, Source Book Vol. II, Princeton, Indiana.
Tartt, Jas. T., History of Gibson County, Indiana, Jas.Tartt & Co. Edwardsville, Illinois, 1884
Tombstone Inscription: Keen Field, Old Field-Morrison Cemetery, Steelman Road, Gibson County, Indiana, Visited by Eugene Field and Lucie Field July, 1997

Parents:
Children:
Abraham Field
Elizabeth Field
Benjamin R. Field
Cynthia Field
Jospeh Riley Field
Stephen Lewis Field
Thomas Withers Field
Reuben R. Field
Ezekiel Field
Keen Wither Field, Jr.