Abraham Field (1793-1870)
Application for Letters of Administration

The State of Indiana,
Gibson COUNTY
Willis S. Hargrove being duly sworn before the Clerk of the Common Pleas Court of the county aforesaid, upon this oath says that Abraham Fields departed this life in said county, intestate, as he believes on the 12th day of April, 1870.; That said Abraham Fields left a personal Estate to be administered, of the probable value, as he is informed and believes, of Four Thousand dollars; and further says not.
Signed, Willis S. Hargrove
Sworn to and subscribed before me, this 24th day of April, 1870.
R W J Miller Clerk.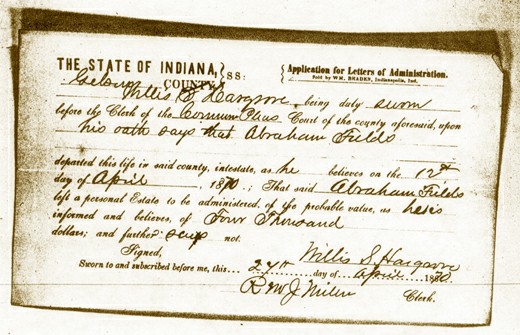 Abraham Field was the son of Keen Field (abt. 1774-1815) and the husband of Grace Rainey. Keen was the fourth European to settle in Gibson County, Indiana about 1799.
Document: Probate Docket of Abraham Field--Application for Letters of Administration, Gibson Court of Common Pleas, Gibson County Court House, Princeton, Indiana, 24 April 1870.
Related links:

Introduction to the Field Family
Keen Field