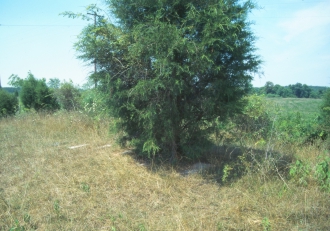 In Memory of/ Fannie F. Berry/Born Nov. 14, 1832/Died July 27, 1862
Daughter of John P. Kelly and Anna P. Field, wife of John S. Berry and the great-granddaughter of Col. John Field, who died at the Battle of Point Pleasant. Col. John was the son of Capt. Abraham Field (1695 - 1774) of Culpeper County, Virginia. Capt. Abraham Field was the great grandfather of Joseph and Reuben Field members of the Lewis and Clark Expedition.
Anne P. Kelly/wife of John P. Kelly/Died Oct. 24, 1856/in the 60th year of/her age
Daughter of Henry Field and Frances Hill and the granddaughter of Col. John Field.
John Payne Kelly (born 10 March 1789 died 13 April 1871)
Son of John Kelly and Jane Payne. He is buried here next to his second wife, Anne P. Field (recorded in the Kelly Family Bible held by the Virgnia State Library)
Fannie Field/Died April 23,1859/in the 79th year of/her age
Wife of Henry Field and the daughter of Col. Henry Hill.
Diana A. Field/daughter of/Henry and Fanny Field/Died Dec. 28th, 1858/in the 18th year of her age

Photograph:
The tombstones of Diana A. Field and Fanny Field are to the right of the tree with Diana being closest to the tree. The graves of Fannie F. Berry and Anne P. Kelly lie to the left of the tree.

This cemetery visited by Gene and Lucie Field, July 1997
Related Links:
Joseph & Reubin Field: The Lewis and Clark Expedition

Field Cemetery, Culpeper County, Virginia
Discovery of the Kelly/Field Cemetery and the Old Field Burying Ground, Culpeper County, Virginia
Letters from Emma Mastin Walker to Eugene and Lucie Field, 1998
Kelly Family Bible, Virginia State Library