Pioneer Dead

SPECIAL TO DEMOCRAT
Shelbyville, Ill., Feb. 15.-Mrs. Nancy A. Richards died at this place Saturday at the home of her brother, K. W. Field, at the age of 79 years. She was formerly a resident of Gibson county and resided in the vicinity of Patoka. Deceased leaves two brothers, K. W. and B. R. Fields, of this place, and one daughter, Jenny Irwin, of Gibson county, several grandchildren and 3 great grandchildren. Her oldest brother Keen Feild, was 85 years the 11th of this month and Ben R. Field was 73 years the 18th of July last. Both these old gentlemen are too feeble to attend the funeral services of their sister.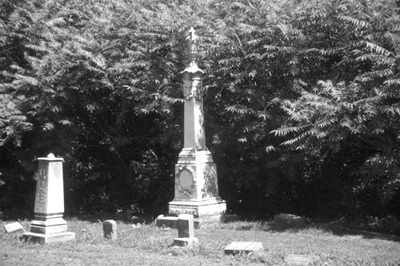 The remains will be shipped to Princeton and interment will take place in the Warnock Cemetery, Tuesday.
Mrs. Richard is quite well and favorably known in this county and her many friends will be pained to learn of her death. The remains will arrive in Patoka today and funeral services will be held at her late residence Tuesday morning at 10 o'clock. after which her remains will be interred in the Warnock Cemetery, Princeton.

Princeton Democrat, 17 February 1902
Princeton, Gibson County, Indiana
Comments:
Nancy A. Richards(1823-1902) was the daughter of Abraham Field (1793-1870) and Grace Rainey (1797-1863) of Gibson County, Indiana. She was born 12 January, 1823 in Gibson County and resided there most of her life. The last record of her residence in Indiana was the 1900 Federal Census. At that time she lived with her daughter Jane. Her first husband and the father of her daughter Jenny, (Jane. 1849-1918) was William Martin (?-1852). Her second husband was Nickson A. Richards (1829-1874). She is buried with Nickson in the Warnock Cemetery in Princeton.
The correct spelling of the last name of Nancy and her brothers, Keen and Benjamin, is Field. The correct spelling if Irwin is Erwin.

Obituary
Mrs. N. A. Richards died at the residence of her brother, K. W. Field, on North 3rd street, Saturday afternoon at 1 o'clock, of pneumonia. Her home was near Princeton, Indiana, and [she] was on a visit here at the time of her death. She was a sister of K. W. and B. R. Field of this city and of the late Mrs. L. H. Turner who preceeded her to the better land. She had been sick only about 10 days. She was 79 years old on January 12th last. She was a widow at the time of her death and leaves one daughter, who lives near Princeton, Ind. Mrs. Erwin, her daughter, and Rob't Field, her nephew, came from Indiana Sunday and took the remains back Monday to Indiana for burial. She was a member of the Baptist church and lived a consistant christian life. Short services were held at the residence of K. W. Field Monday afternoon at 3 o'clock, Rev. Todd of the Baptist church officiating. Interment of the remains will be made near Princeton, Indiana, Tuesday afternoon after regular funeral services at that place.

Shelbyville Democrat, 20 February 1902
Shelbyville, Shelby County, Illinois
Robert Field, Nancy's nephew was a son of Joseph Jackson Field and Nancy A. Phillips. He was orphaned at the age of 9 and he and his sisters lived with Nancy and Nicks for some time.

Death of Mrs. N. A. Richards
Mrs. Nancy Richards, whose home was north of Patoka, died Saturday at Shelbyville, Ill. The remains were brought to the old home today, the funeral taking place this afternoon. The interment was in the Warnock cemetery. The deceased was the widow of Nicks Richards, she was well known here.

Princeton Clarion, 18 February 1902
Princeton, Gibson County, Indiana

Links to residences of Nancy A. Field:

Residence No. 1: Sec. 12, White River Twp., Gibson County, she lived here from 1840 to 1874
Residence No. 2: (M.D. No. 6. Tp. 1, S.R. 10) White River Tp. Gibson County, Indiana 497 Acres

The first drawing is of the house in its original condition. The sceond drawing is the same house with a second story added.