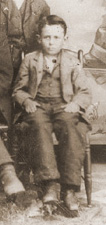 WILLIAM H. FRYMIRE, 84, Dies Friday in Marion: Funeral at Claypool.
Funeral services for William Henry Frymire, 84, a lifelong resident of Claypool and vicinity, are set for 1:30 P.M. Sunday at the Tucker funeral home at Claypool. Rev. Arthur E. Bloomfield is the officiating minister and burial is in Graceland Cemetery at Claypool.
Mr. Frymire died at 3:30 A.M. Friday at the home of his son, Harry E. Frymire, of Marion, following a serious illness of eight weeks due to Chronic Myocarditis. He was born October 6, 1863, the son of James and Isabelle (Gohn) Frymire. In 1883, he was married in this city to Olive C. Bolenbaugh, who is deceased.
Surviving relatives include three sons, Harry E. of Marion, Edward R. of Fort Wayne, and Leonard W. of Peru; a daughter, Mrs. John Claussner, of Grand Rapids, Mich., nine grand children and 10 great-grandchildren. A daughter, Mrs. Foster Gunter, also preceded him in death.
Friends may call at the funeral home until the hour of the service.

January 26, 1948
Warsaw Daily Union, pg. 7
Comments: William is buried next to his wife in the Graceland Cemetery, Claypool. His brother Edward is also buried at the Graceland Cemetery. He is listed with all his children in the bible belonging to his mother Isabelle Gohn Frymire. Mrs. John Claussner was Chloe E. Frymire. Mrs Foster Gunter was Bessie Mae Frymire.