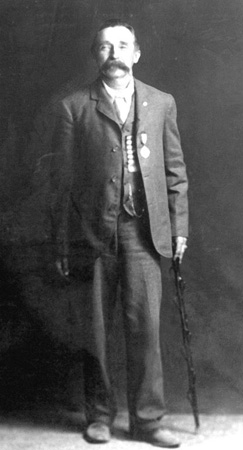 Chauncey F. Gohn (1841-1932) was the seventh child of John P. Gohn (1806-1888) and Lydia Mosholder (1811-1889) of Somerset County, Pennsylvania. His oldest sister, Isabelle Gohn (1833-1924) was the great grandmother of Miriam Grasz Field to whom this web site is dedicated.
Chauncey married Rebecca Ann Hart and they had five children: William H., Mary J., Charles F., Clara Isabelle and Harry Savannah.
Galen Miller of Pennsylvania, a 2nd great grandson of Chauncey, has generously shared much family information with us including this original obituary.

Gohn Links
Letter from Chauncey F. Gohn, July 8th.1864
Letter from Chauncey F. Gohn, July 21st.1864
Letter from Chauncey F. Gohn to his great grandson Glendon Gindlesperger, November 26, 1928