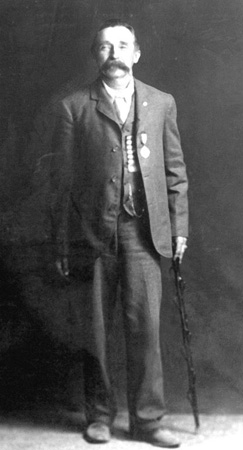 Chauncy Fremont Gohn
General Family Links
Descendant Chart of Philip Gohn, York County, Pennsylvania

Descendants of Philip Gohn, York County, Pennsylvania

Letter from Chauncey F. Gohn, July 8th.1864

Letter from Chauncey F. Gohn, July 21st.1864

Letter from Chauncey F. Gohn to his great grandson Glendon Gindlesperger, November 26, 1928

Photo of Chauncey Fremont Gohn (1841-1932)
Links by County and State
Lagrange County, Indiana
Kosciusko County, Indiana
Graceland IOOF Cemetery, Claypool, Tombstone of Isabelle Gohn
Newaygo County, Michigan

In 1738 Philip Gohn and his family immigrated from Rimschweiler-Zweibrucken, Palatinate, Germany to Pennsylvania on the ship The Thistle. They settled in York County, Pennsylvania. Phillip's great-great-grandson, John P. Gohn (1806 - 1888) and his wife Lydia Mosholder (1811 - 1889) moved to Lagrange County, Indiana, in May of 1844. They then moved to Elkhart County and finally back to Lagrange County by 1870. Their daughter, Isabelle Gohn (1833 - 1924), married James Frymier (abt. 1830 - abt. 1865). Isabelle's daughter, Elizabeth Rosette Frymire (1858 - 1907), married James Robert Wilson (1852 - 1915). Their daughter, Tressa Ethel (1886 - 1931), married Floyd M. Grasz (1886 - 1979) of Nappanee, Indiana. Their daughter, Miriam Grasz (1918 -), married Howard Allen Field (1911 - 1989). In 1945 Howard and Miriam moved to Turlock, Califronia. Miriam now resides in Selma, Calfornia.
An excellent reference to one branch of the Gohn Family is Gohn-Goah Descendants from Somerset County, Pennsylvania, by Fava E. Goan. This book was published by Anderson Graphics, Inc. Milwaukee, Wisconson. The book is available at the LDS Family History Library, 35 North West Temple Street, Room 344, Salt Lake City, Utah, 84150-3440. Phone: 801-240-2584 or 866-406-1830. E-mail: fhl@familysearch.org. Website: www.familysearch.org.
The photograph is of Chauancy Fremont Gohn (1841 - 1932). He was a Civil War Veteren. He was a son of John P. Gohn and Lydia Mosholder and a brother of Isabelle Gohn. The photo was provided by Galen Miller, a great-great-grandson of Chauncey Gohn.